pizza
Blood Orange Poppyseed Coconut Bundt Cake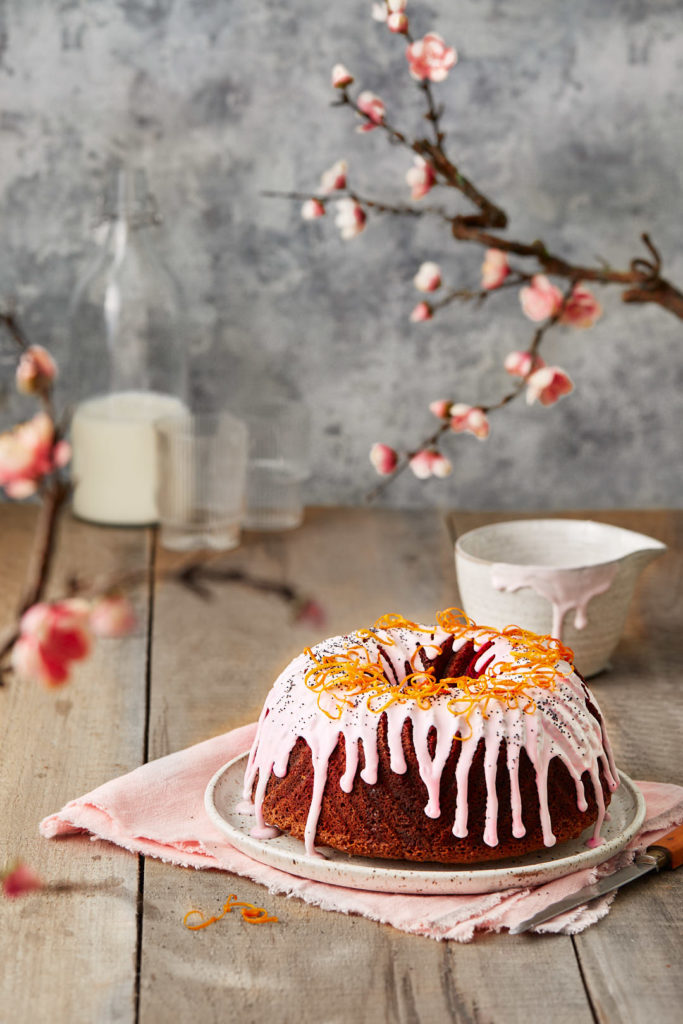 I love a good Bundt cake. The pan does all the work for you. They look gorgeous right out of the pan and there is very little decorating work to do. There's a big wow factor with little effort.
The trouble many people run into with Bundt cakes is getting the baked cake out of the pan in one piece. I've been there! It's heartbreaking. Here are a few tips to ensure success:
Do not grease pan with butter. The milk solids in butter cause the cake to stick when it bakes. I recently read about this recipe from @bakerstreetsociety that ensures a Bundt that releases perfectly every time. Combine 1/2 cup each of vegetable oil, vegetable shortening and all-purpose flour. Mix until very smooth. Using a pastry brush, generously coat the inside of the Bundt pan, paying special attention to all the crevices and the centre post. The leftover mixture keeps in the fridge for a very long time.
When the cake comes out of the oven, set it on a wire rack and wait 10 minutes before trying to turn it out of the pan. If it does not release instantly, don't panic. Set a towel on the counter, under the cake and give the top of the pan a gentle bang. If it still doesn't release, leave the cake turned upside down, on the wire cooling rack and wait for 15 minutes. Give gravity a chance to work. Try banging after 15 minutes. It should release.
If you do want to glaze the cake or give it a dusting of icing sugar, wait until the cake is totally cool before glazing.
I'm celebrating blood oranges with this cake, but any orange variety, or even clementines would be delicious.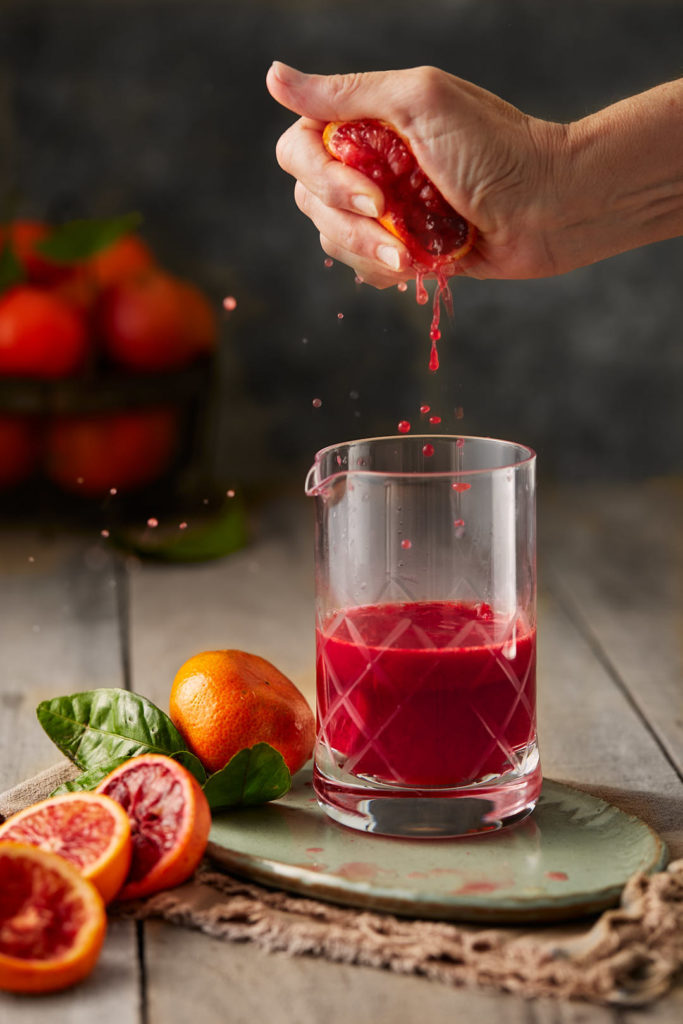 You will need both orange zest and orange juice for this recipe. Zest before juicing. It's much easier that way. I used a microplane grater for the zest that goes into the cake batter, as you want a fine zest for that. If you want some zest for decorating the top of the cake, use this tool to get some nice long curly strands.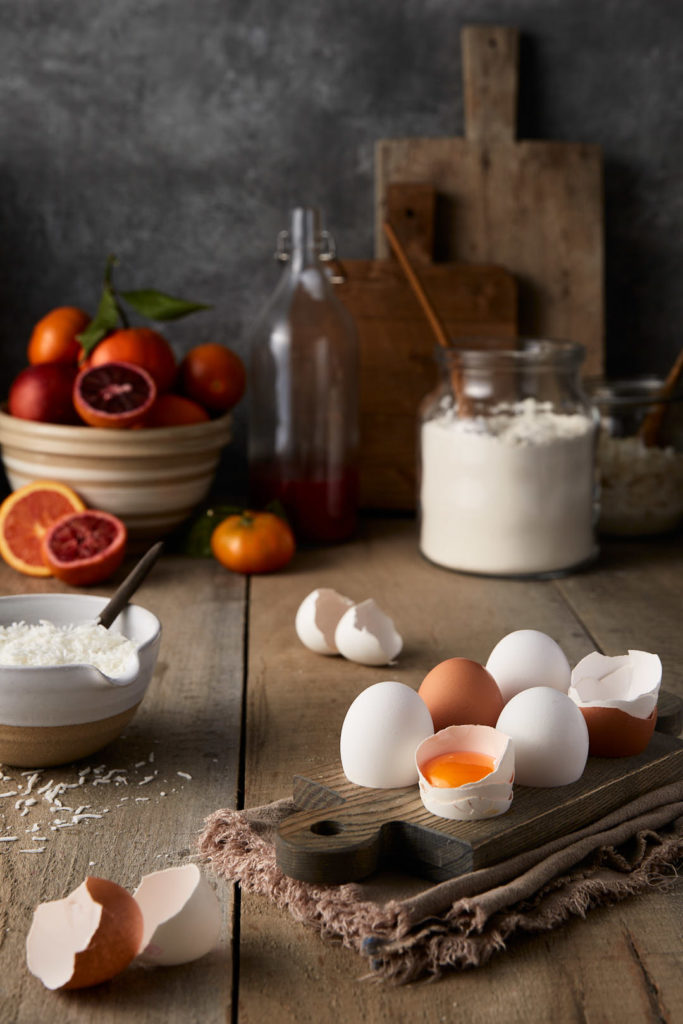 This Bundt cake calls for sour cream which helps create a very rich and moist cake. I decided to add some poppyseeds to this cake for the crunch and the visual appeal. I also added some coconut. It really works well with orange, but if you are coconut averse, omit it.
In addition to a glaze on the cake, I treated this cake to a simple syrup bath (equal parts blood orange juice and sugar). This gets spooned onto the cake when the cake is still warm and it soaks into the cake contributing extra flavour and moisture.
You could certainly leave the cake plain or just sprinkle on a dusting of icing sugar, but I love to provide flavour cues with my cakes. I made a pretty pink glaze with icing sugar and blood orange juice and finished with a sprinkle of poppyseeds and some shreds of orange zest.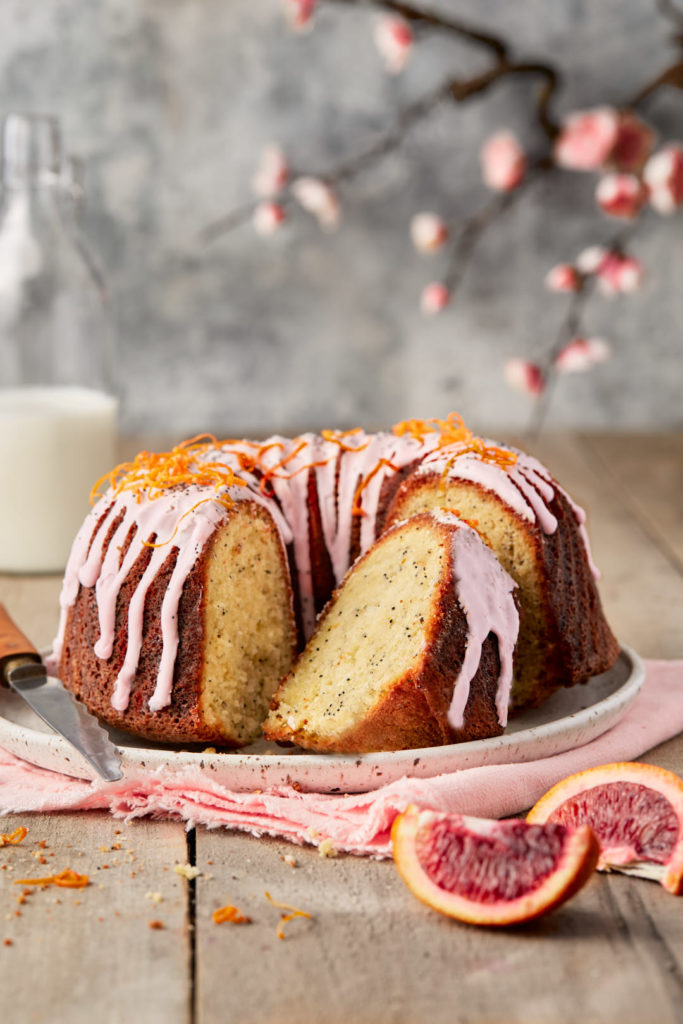 Click here to print recipe for Blood Orange Poppyseed Coconut Bundt Cake.