pizza
Cheddar Latkes | Salt and Serenity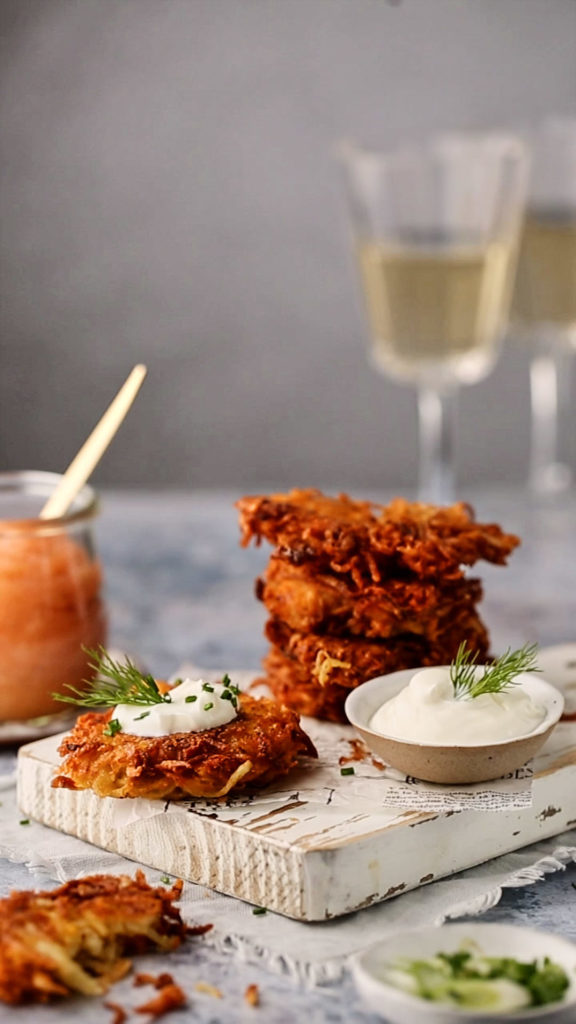 Happy third night of Chanukah. I really did mean to get this posted last week, but time got away from me. But, luckily Chanukah lasts for 8 nights, so you still have 5 nights left to try these latkes.
When I mentioned to my family that I would be adding cheddar cheese to the latkes this year, it was met with less than enthusiasm. I get it. We really only get to eat latkes once a year, and folks don't want you messing with tradition.
My husband, ever the diplomat, responded to my announcement with "I'm not really sure how I feel about that." This coming from a guy that puts ketchup on his latkes (I think it's an Ottawa thing). My daughter suggested that perhaps I "make two batches, one with cheddar and one without". Spoken with the innocence of youth, who isn't peeling and grating the potatoes, squeezing all the liquid out and getting the smell of fried oil in her house and hair for days, as well as trying to film a video!
This is not the first time I have messed with tradition. There was the Latkes with Fried Eggs and Roasted Tomatoes in 2011, the poorly maligned Sweet Potato and Brussels Sprouts Latke variation in 2016, and Apple-Potato Latkes last year.
But hear me out on this one. You know when you make a grilled cheese sandwich and those rogue bits of cheese escape and get all brown and crispy at the edges of the sandwich. That's the best part, right? So imagine crispy fried potatoes and crispy cheese. Two kinds of crispy. How bad could that be? Pretty damn fantastic. They were met with rave reviews.
The inspiration came from Chef Michael Solmonov. I saw him add cheddar to his latkes on the Rachael Ray show last week, and I was sold. He added a full pound of cheddar to his latkes, but I scaled that back to 5 ounces in my version, which still let the potato flavour come through strong.
A few tips for success:
Do not skip the step in the recipe where you squeeze all the water out of the grated potatoes and onions. You will not achieve crispy latkes.
Save the liquid you squeeze from the potatoes and onions. Let it sit for a few minutes and then pour off the liquid. The gunk you see at the bottom of the bowl is potato starch. Mix it with the eggs and add it to your potato mixture. That potato starch is a magic ingredient in keeping your latkes from falling apart.
Reheat latkes on a wire rack, set over a baking sheet. The wire rack allows the air to circulate so the bottom of your latkes don't get soggy.
Click here to print recipe for Cheddar Latkes.
Source link