pizza
Green Goddess Salad (and meal prep for a reset)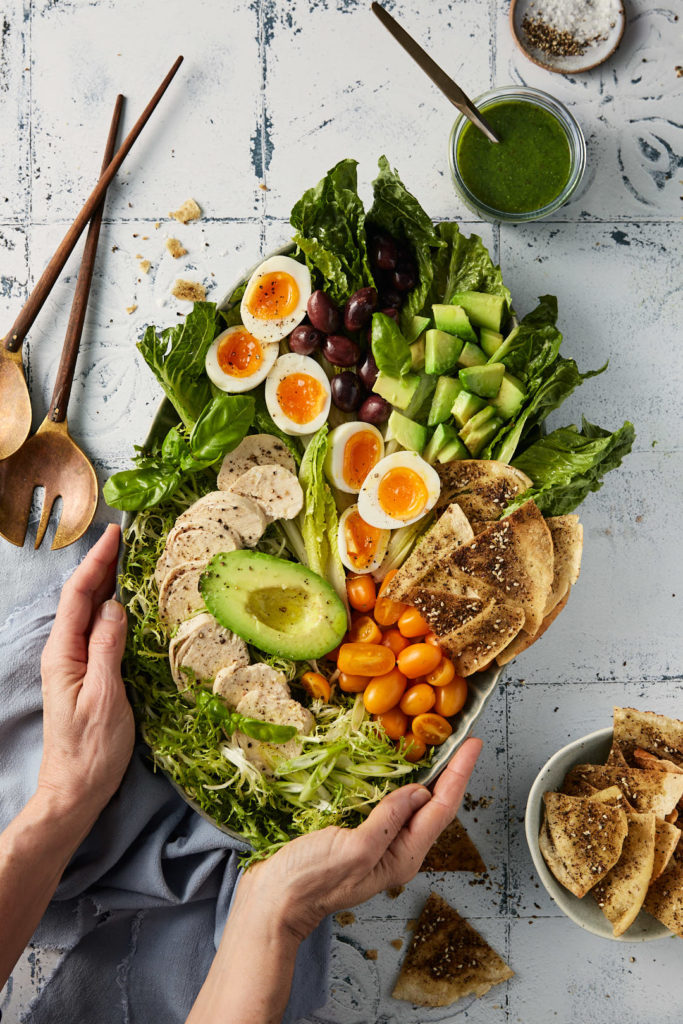 Happy New Year. Yes, I realize that we are already a week into the new year, but I practice slow January. (not to be confused with dry January 😉). I have difficulty with transitions. I do not rush into the new year filled with goals and resolutions. I like to ease my way, gently, into the new year.
Cookie month (or December, as the Muggles like to call it) was glorious. I was in my happy place baking over 12 different kinds of cookies. If you follow me on Instagram, you likely saw this video of how I packaged them up for giving away. I love packaging and designing labels almost as much as I love baking and gifting them.
By the beginning of January, I was convinced that my body was comprised of 100% cookie. I always need a reset at this time of year. To remind myself to practice mindful eating and set myself up for success, I like to do meal prep. I fill my fridge with prepared lean proteins (poached chicken breasts, jammy eggs), washed lettuce and other veggies, a jar of delicious homemade salad dressing and some spiced pita chips (we're not monsters here, we still need crunch).
These ingredients are good in the fridge for 4-5 days, so I always have a quick and healthy lunch or dinner ready without having to think about it. In the recipe I provided, I presented it as a salad for 4-6 people, but it's a great way to meal prep and fill your fridge for the week too.
If I'm roasting or grilling chicken, I prefer thighs, but chicken breasts are very delicious and moist if you poach them. It's a method that most people don't consider. Place skinless boneless breasts in a pot and cover with water. Bring to a boil and skim the foam off the top. Turn heat down to a simmer and add onions, carrots, celery, parsley, salt and pepper and simmer for 20-30 minutes, until they reach an internal temperature of 120°F. Then leave them in the poaching liquid in the fridge to chill. The chicken breasts absorb all that flavourful liquid and they are super moist.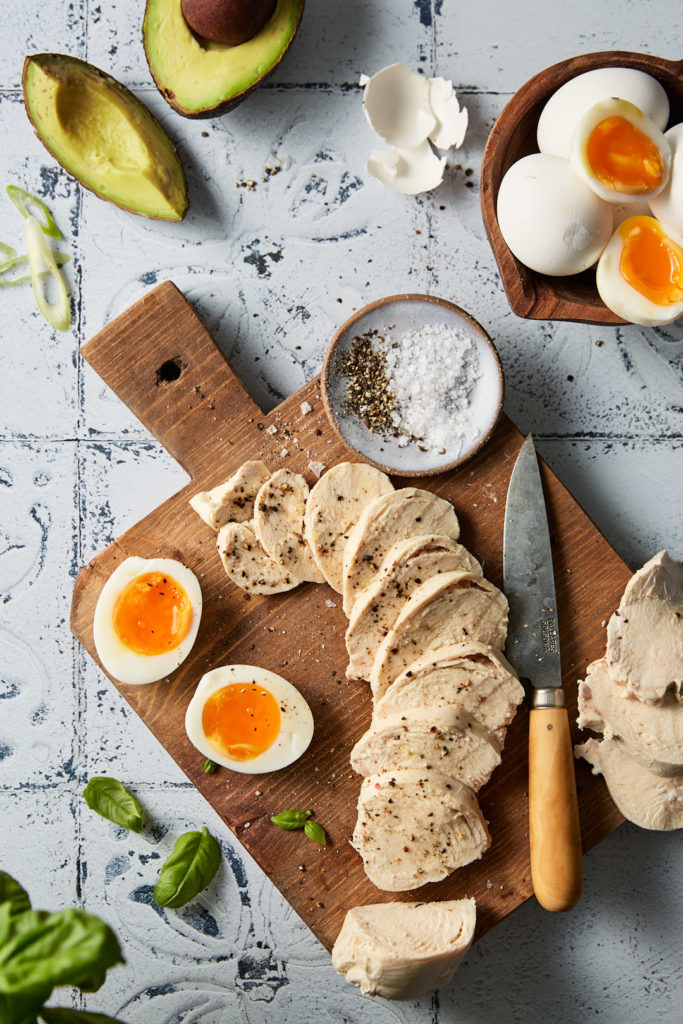 For perfect "jammy" eggs bring a pot of water to a boil, gently lower eggs into water (I love this tool for that task). Boil for exactly 7 minutes and then remove and submerge in an ice water bath to stop the cooking and chill. If jammy eggs are not your jam, 11 minutes will give you hard boiled. Cooked eggs, keep well in their shell for about 5-6 days. The yolks in these eggs were not photoshopped! They are really this vibrant orange hue. I buy them at Farm Boy. I have been told that the colour comes from marigold and other plants that contain the pigment xanthophyll in the feed of the chickens.
The Green Goddess dressing recipe is from Mandy's Gourmet Salads cookbook. Basil, parsley and tarragon contribute their verdant tones to create a gorgeous emerald green dressing. My regular house dressing is just a simple vinaigrette, but this is a nice change and feels special. It comes together in the blender in less than a minute.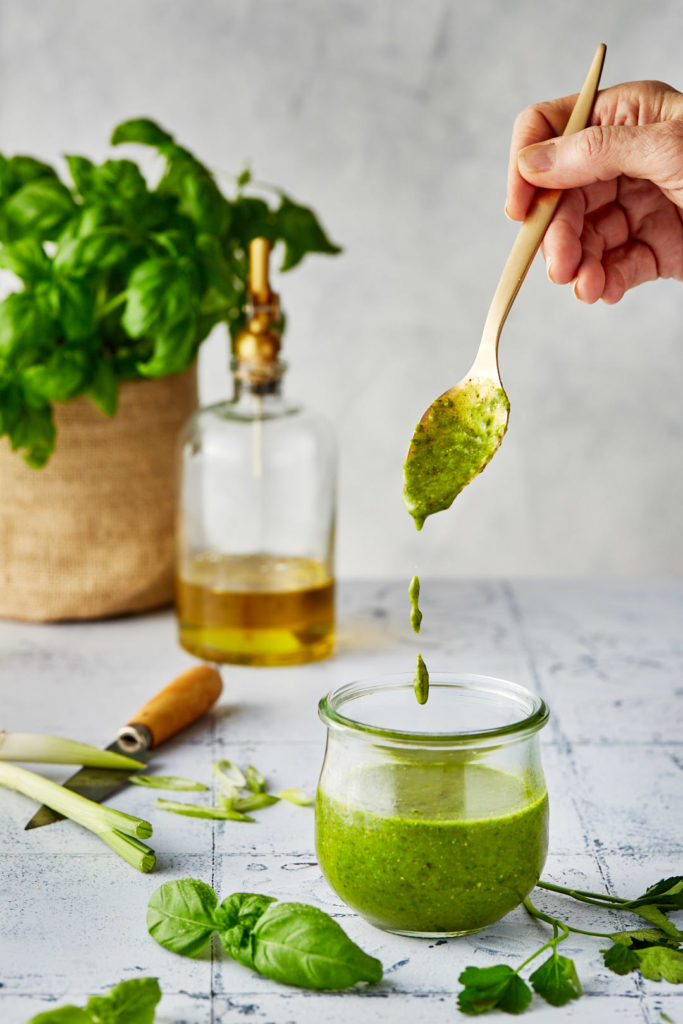 All salads need some crunch element. I'm all about texture. Croutons or nuts are great, but why not make some spiced pita chips. They keep well for at least 2 weeks in an airtight container. I spiced mine with za'atar and sumac. You can find za'atar in many supermarkets or make your own with this recipe. I find sumac at Bulk Barn.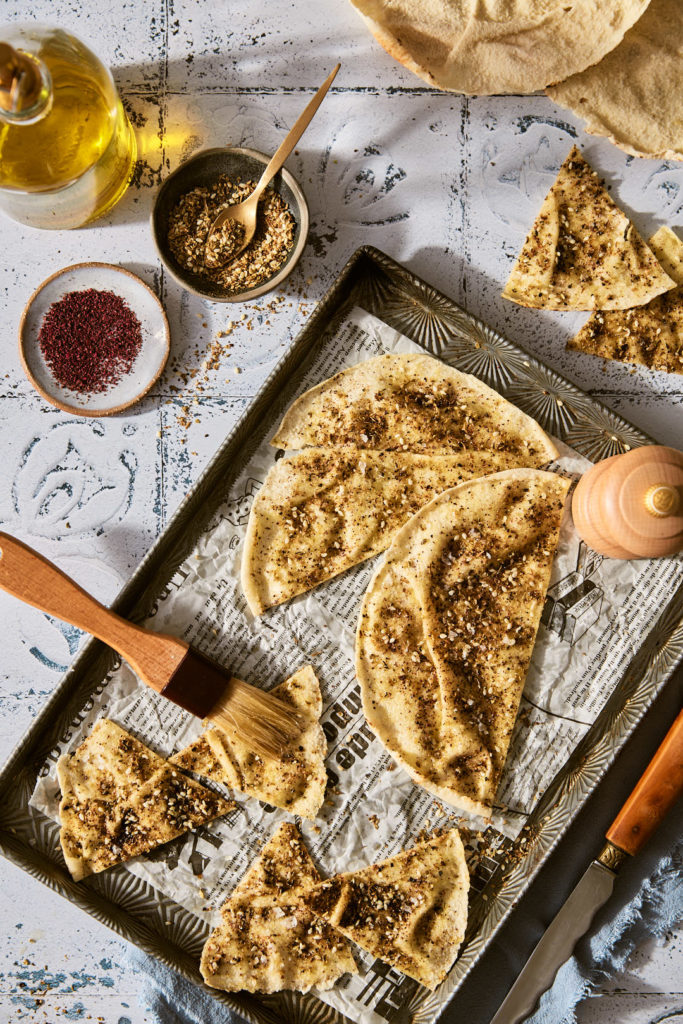 Click here to print recipe for Green Goddess Salad.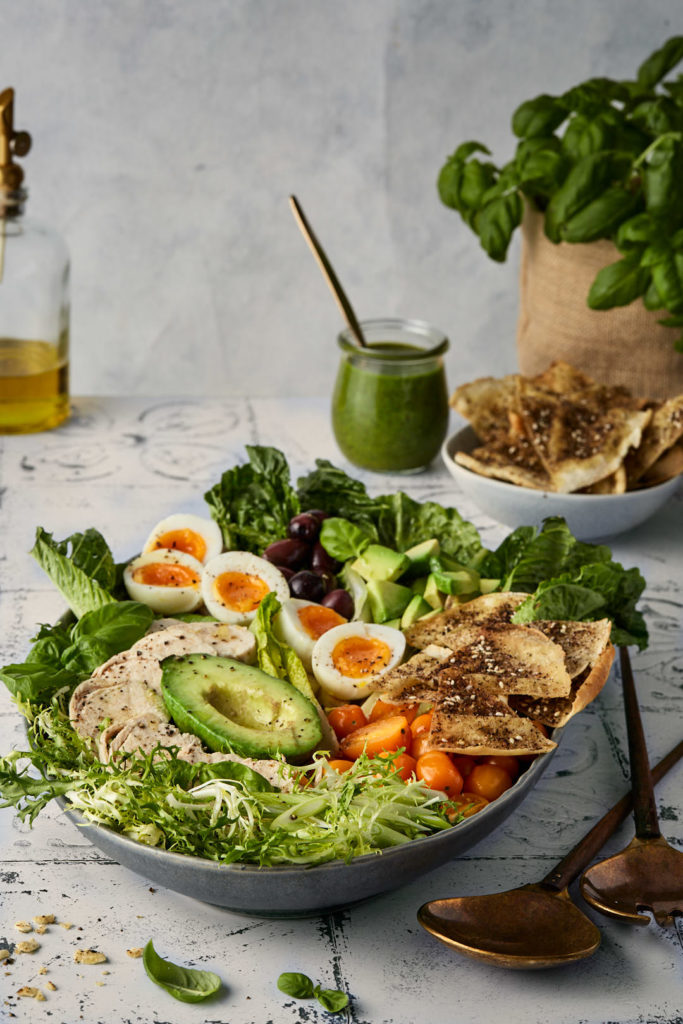 Source link