pizza
Honeynut Squash with Maple Agrodolce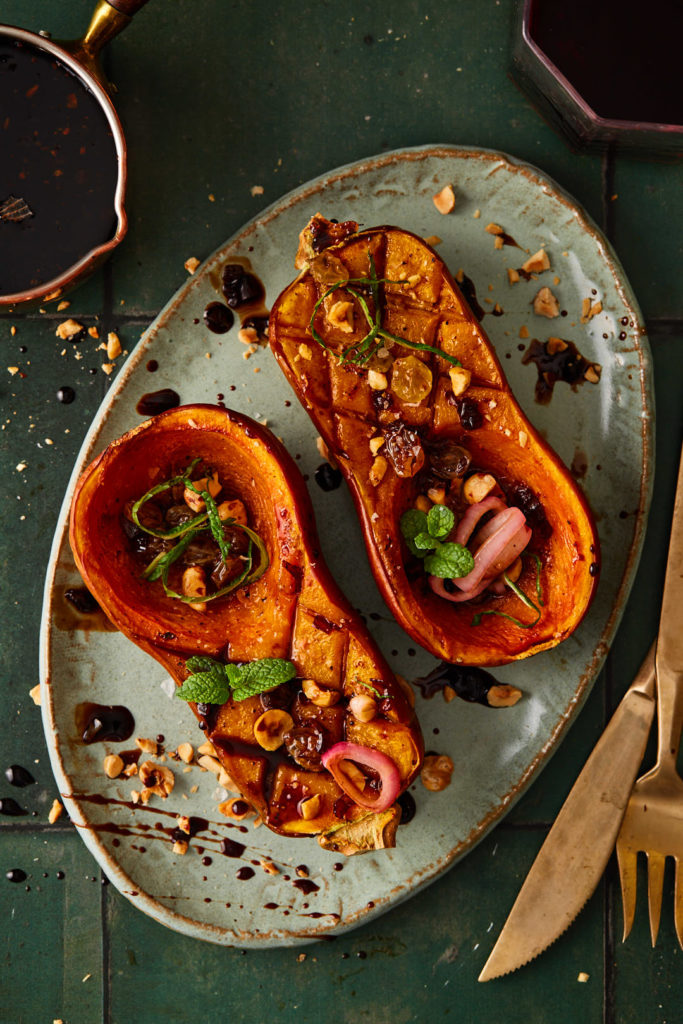 If you were at the Ottawa Whole Foods last week and were startled by a woman squealing, I apologize. That was just me, delighted to find the elusive Honeynut Squash. While not quite as rare as Pink Pearl Apples, which I'm convinced are the unicorn of apples, Honeynut Squash are challenging to find. On a side note, if you live in Ottawa and ever find Pink Pearl Apples, alert me immediately! I am obsessed with them.
Honeynut squash are sold most commonly at farmer's markets, but they are starting to become more widely available as people discover how delicious they are.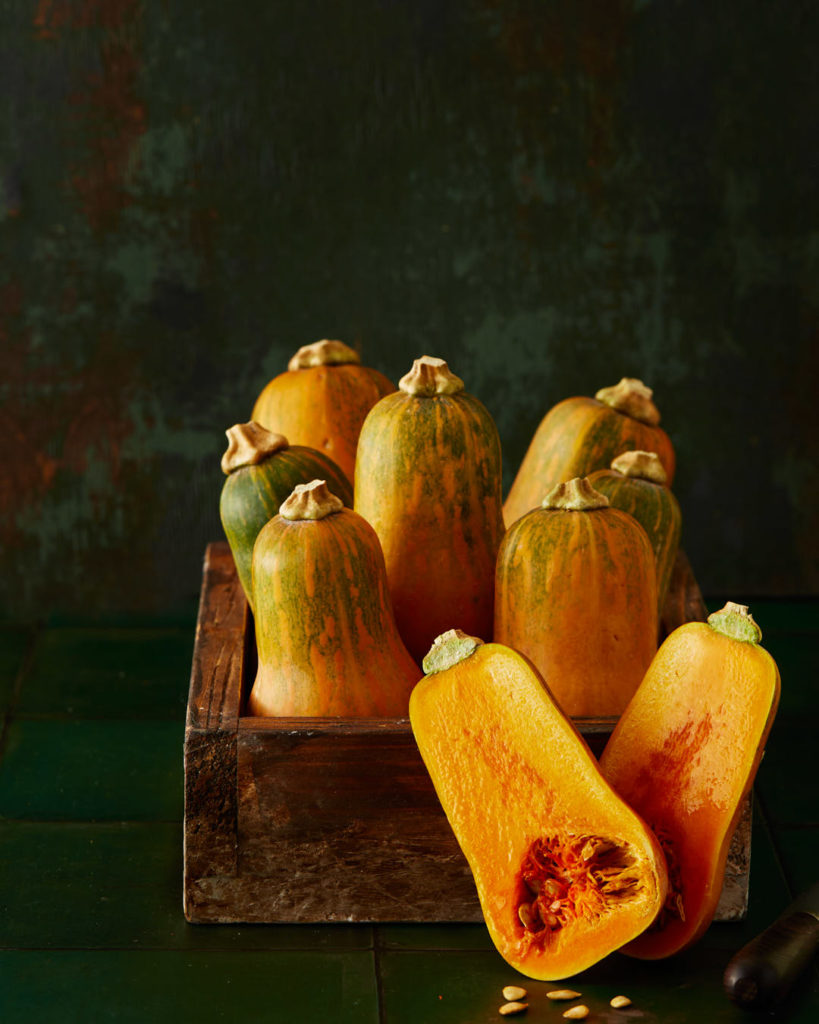 Measuring a diminuative 4 inches in length, they look like baby Butternut squash. But Honeynuts have an inherent sweetness that is much more concentrated than Butternut. When roasted at high heat, they have caramel and malt-like notes. Big bonus, the skin is so thin that it's edible, so no peeling required. The flesh is silky smooth, not at all stringy. Plus, they are just freaking adorable. Who wouldn't love their own personal sized squash?
If you can't find them, this recipe works perfectly with Butternut squash. An agrodolce is an Italian sauce-condiment hybrid. The name comes from "agro", Italian for sour, and "dolce", Italian for sweet. This maple version was created by Cook's Illustrated. it's also delicious on pan seared salmon, roast chicken or roasted Brussels sprouts.
Start by giving the squash a drizzle of olive oil and a good sprinkling of salt and pepper. Roast them, cut side up, in a hot oven for about 40 minutes. If you're feeling fancy, you could score the skin with a paring knife, into a diamond pattern. No functional reason for doing this. I just did it for aesthetics. Pretty pictures are what I'm all about these days.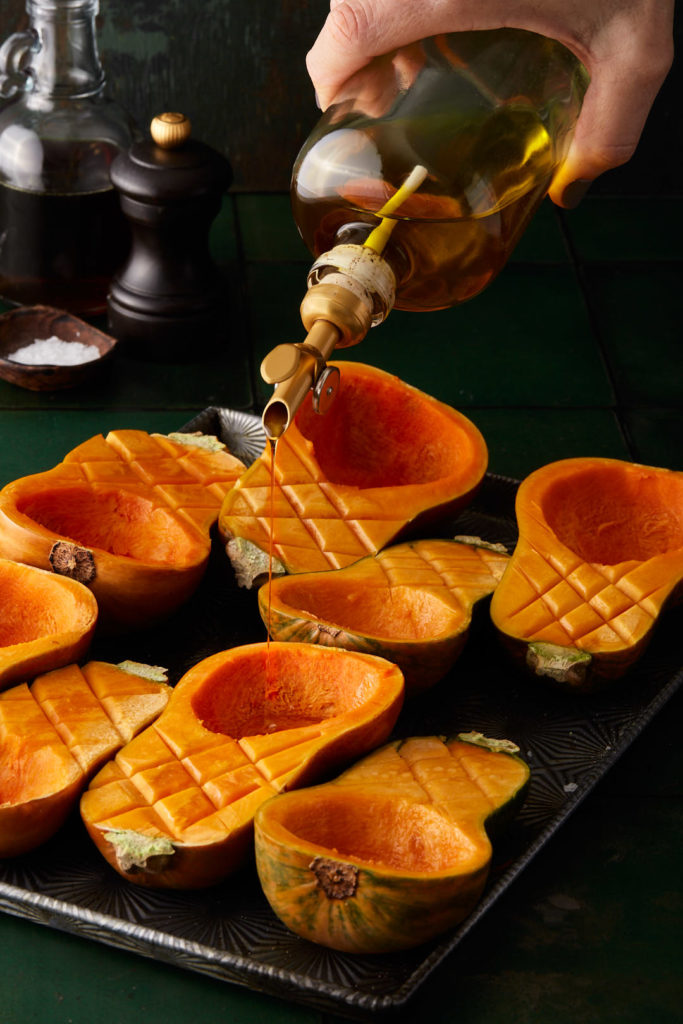 While the squash is roasting, make the maple agrodolce. Simmer balsamic vinegar, maple syrup, finely diced shallots, golden raisins, salt and red pepper flakes, until thick any syrupy. Spoon over the roasted squash. That's it!
I garnished it with some chopped toasted hazelnuts, for crunch, chopped mint for a hit of freshness and a scattering of pickled shallots for extra bite.
Click here to print recipe for Honeynut Squash with Maple Agrodolce.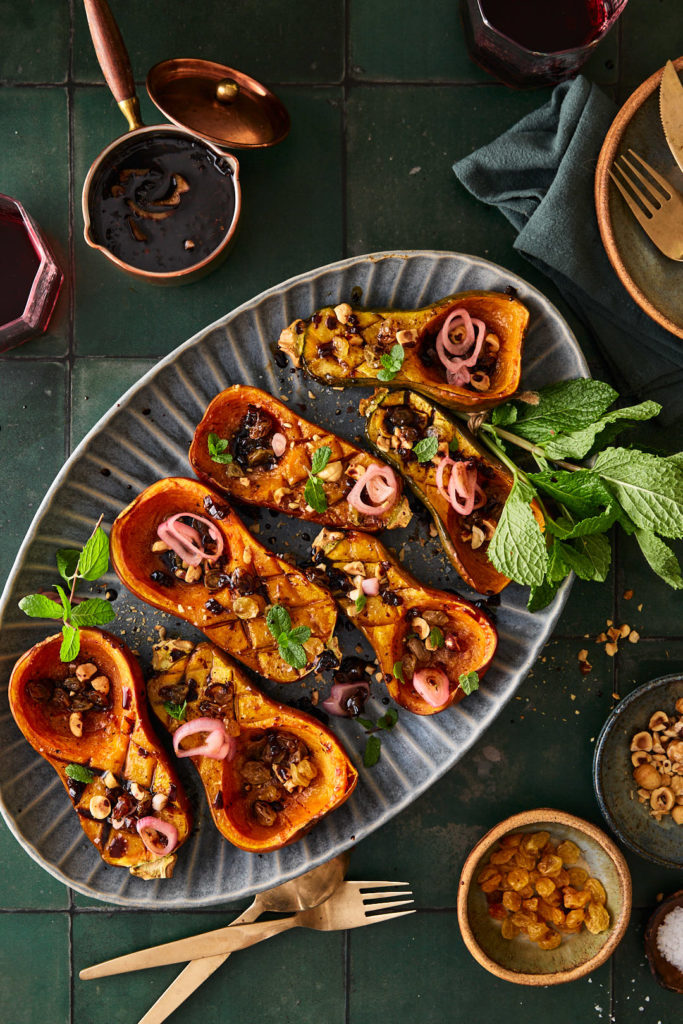 Source link