pizza
When a Fold is Knot Enough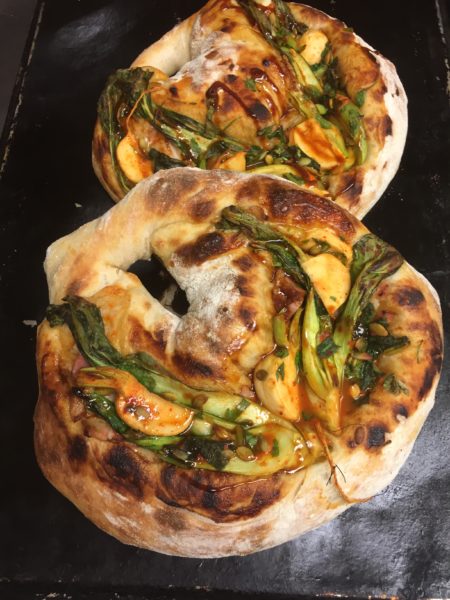 I do alot of tying and folding with all sorts of pizza and breads. Here are a few. These delicious "O Face" pizzas (above) are very popular. They are the spawn of two elements; Very large blobs of sourdough and not enough time to ball, wait and form a disc before cooking. These have my favorite combination of cured baby bok choy and Tokyo Turnips wtih Gochujang, miso and teriyaki with pumpkin seeds atop aged provolone. (Don't laugh- the flavor is spot on!)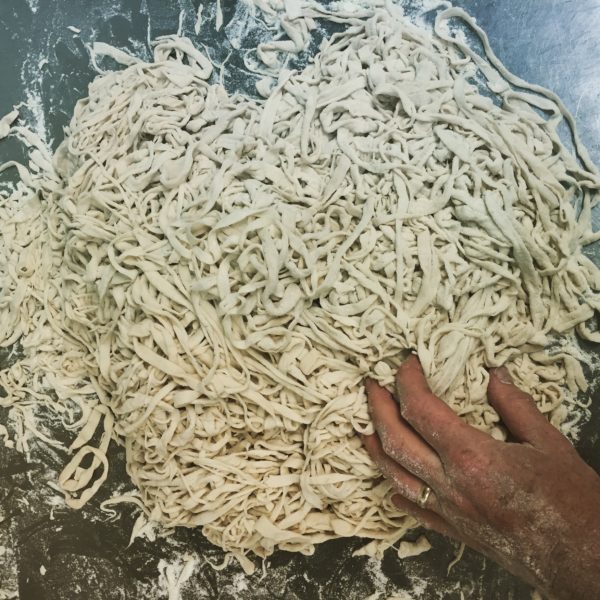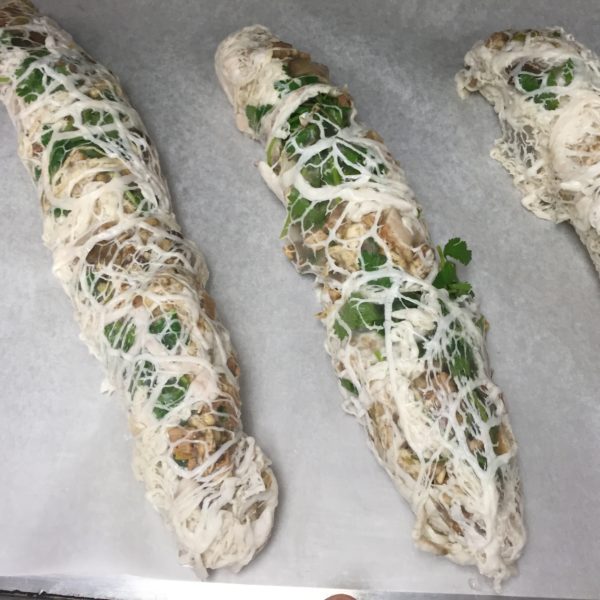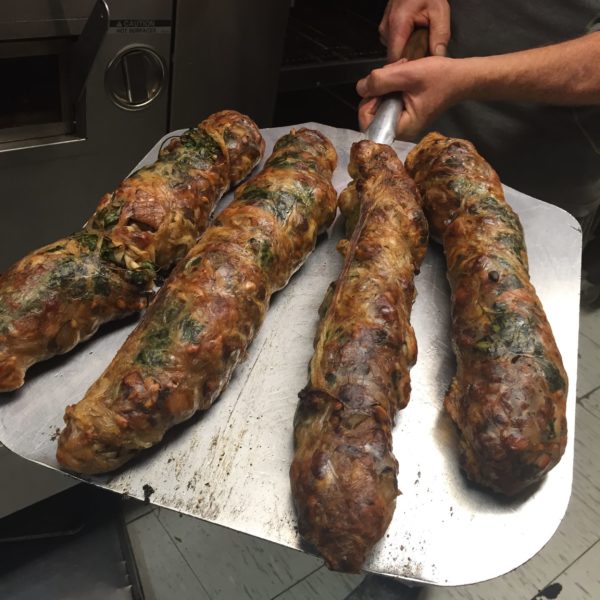 Traditional bakers shutter at this horrendous baking activity. I admit that this may go against forming the perfect alveoli or cell structure, crust… bla, bla, bla, but this is delicious and really cool. I call it "Pane Groviglio," (tangled bread) and is a prime example of when a bread crosses the line to pasta, then encased like sausage or crepinette. I first flattened and cut strips from an aged sourdough keeping them separate then tossed in a cured local pork belly that I roasted with Baharat spice, pine nuts, Jerusalem artichokes, cilantro and lemon zest. Then I wrapped and tied with caul fat after topping each batard with basil. This is a tricky bake but if you are crazy enough, you can pull it off.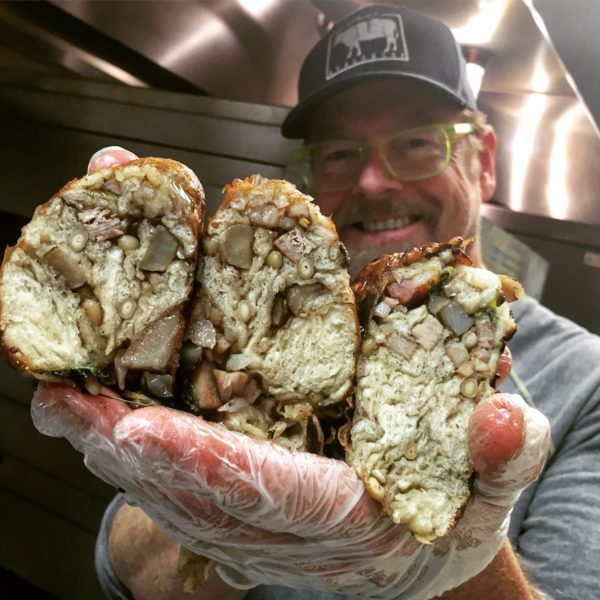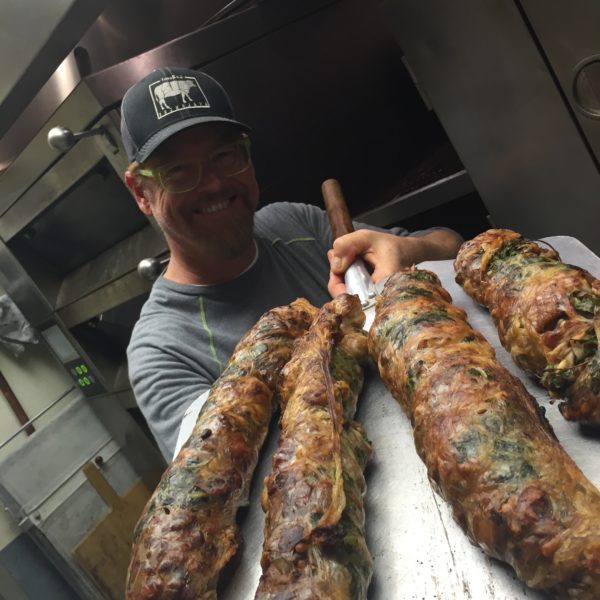 Look at that anti-crumb and crisp, porky crust. DEElish.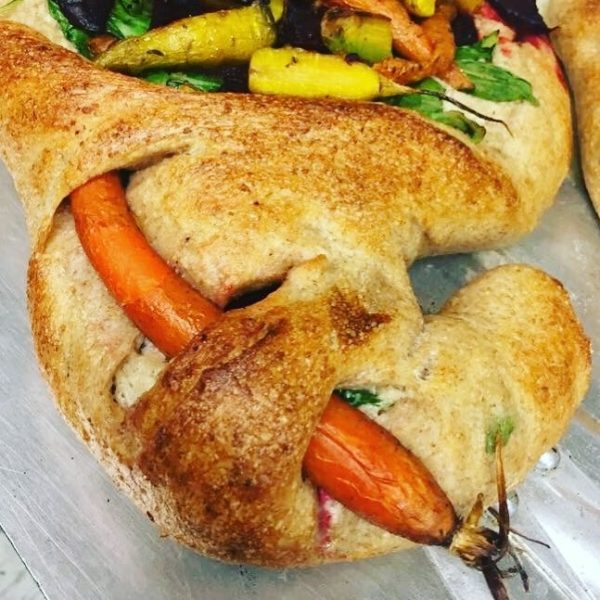 There are some other breads and pizzas that I twist, tie, slice and stuff like this spelt "Cornetta" with lovely local Vest Farms carrots that I par-roasted and wove into this dough.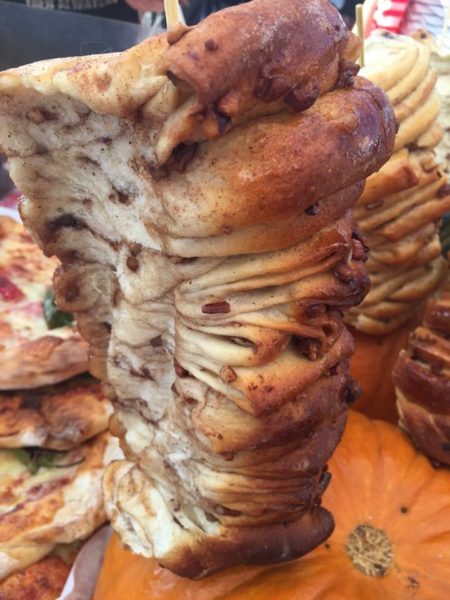 Talk about a mega-fold. This is our "Gorilla Bread" which I make in some old Detroit pizza pans. Like Monkey Bread, its a amalgamation of dough, sweetness, spice and nuts. This contains copious amounts of maple syrup, cinnamon, nutmeg, vanilla, pecan and walnut. I have to skewer these to keep them in line but this works well to stick them in large pumpkins like a pin cushion.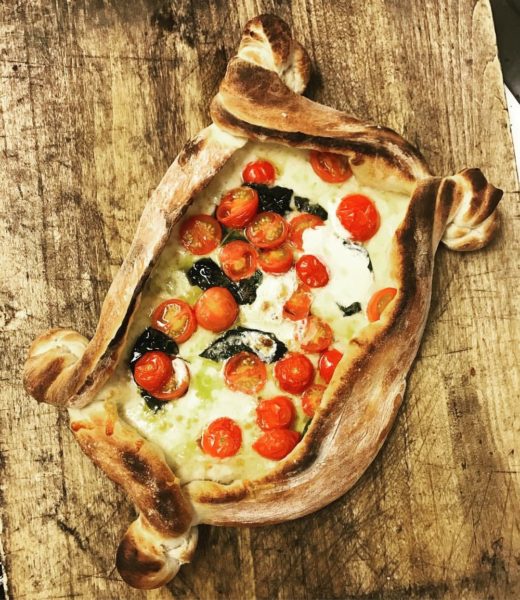 Dr. Seuss is in the house! One of my favorite knotted pizzas is this "Quattro Nodi" or four knot pie with some great summer cherry tomatoes from Cowdery Farms, Green Edge Gardens basil, aged mozzarella and fior di latte mozzarella with Corto extra virgin olive oil.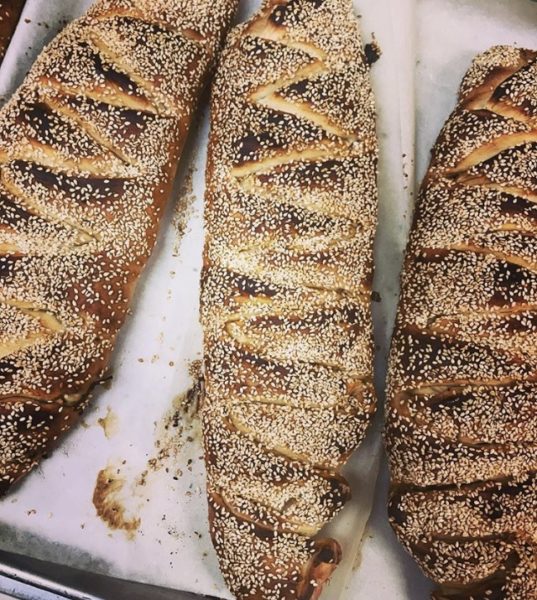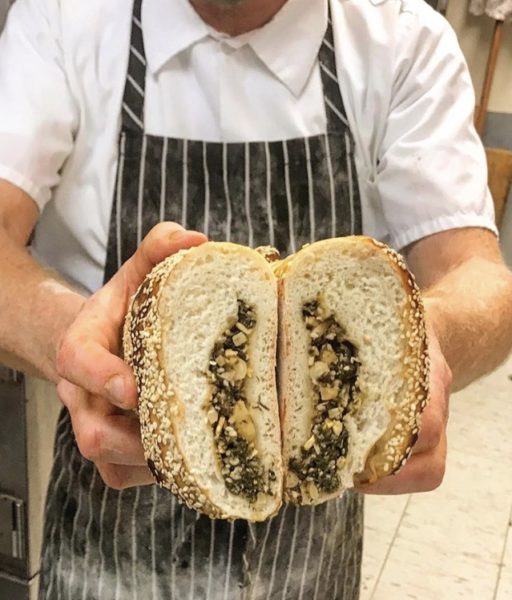 Here is a traditional, non-traditional Stuffed Simit wtih almond, cashew, local Integration Acres Feta, za'atar, fresh spinach, sesame, mint and pomegranate molasses. First it is sliced with a razor blade then folded over and over again, brushed with the molasses and sprinkled with sesame.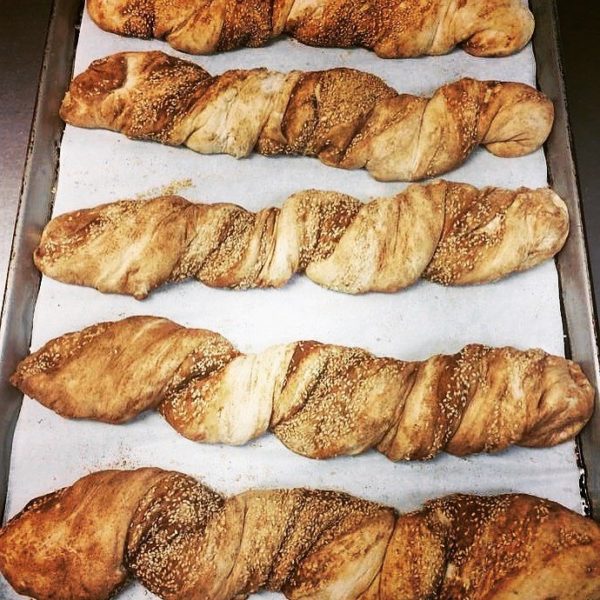 These are one of my favorites. The traditional Pain Tordu or twisted baguette or batard is twisted into a new flavor profile with two things I like best on high hydrated ciabatta dough- Chinese five-spice and sesame. The fragrance and taste is incomparable.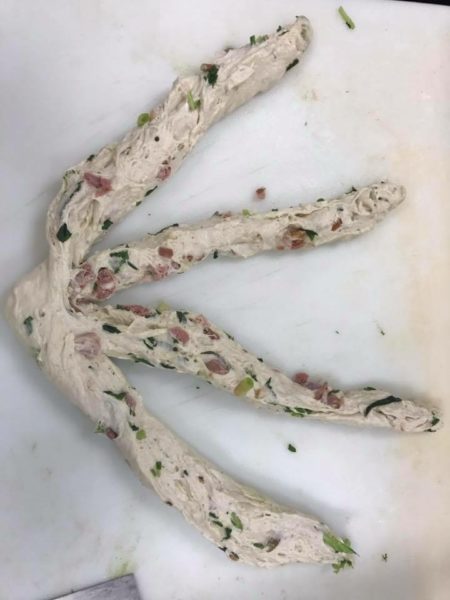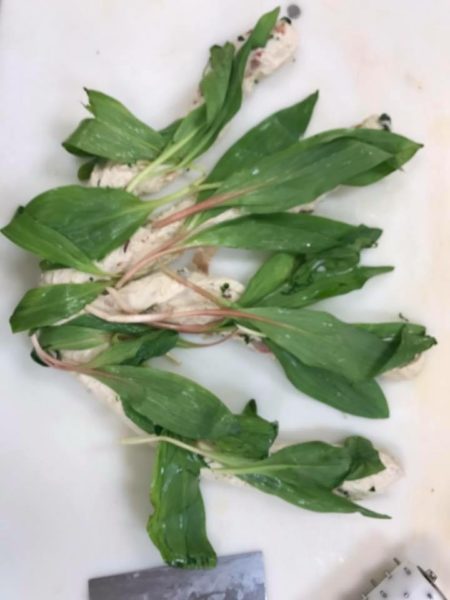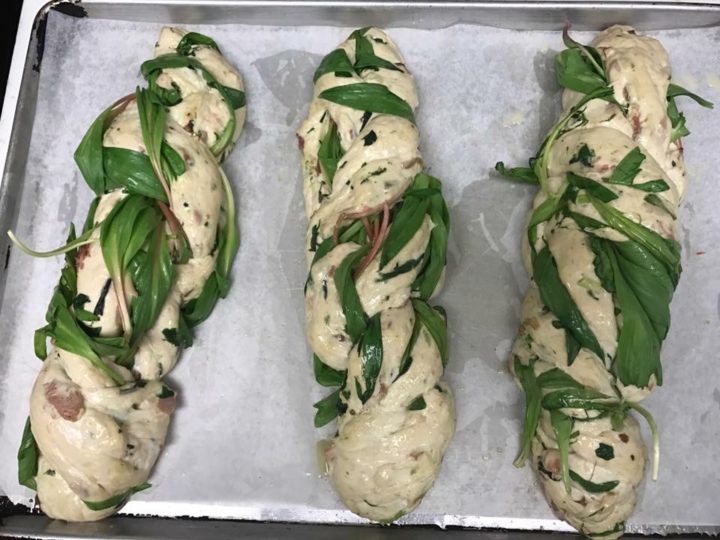 "Tangled up in Ramps." (Pain tresse au poireau sauvage) This is a springtime wonder as a folded and knotted batard with dough impregnated with King Family bacon ends, Harmony Hollow Ham, cracked peppercorn and Integration Acres Caprino Pecorino.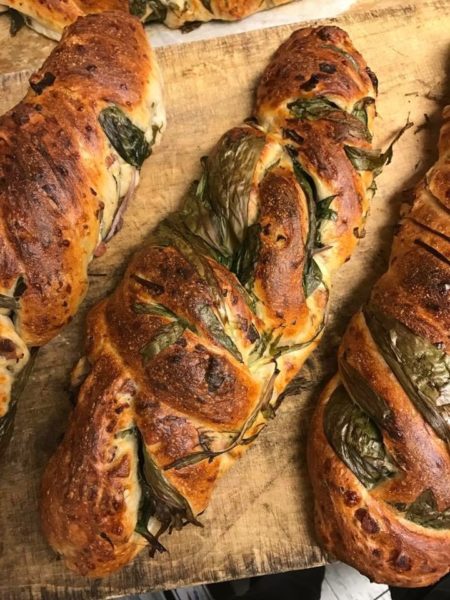 Well, there you have a few of my twisted creations. Now, I've gotta remember how to tie my shoes. See ya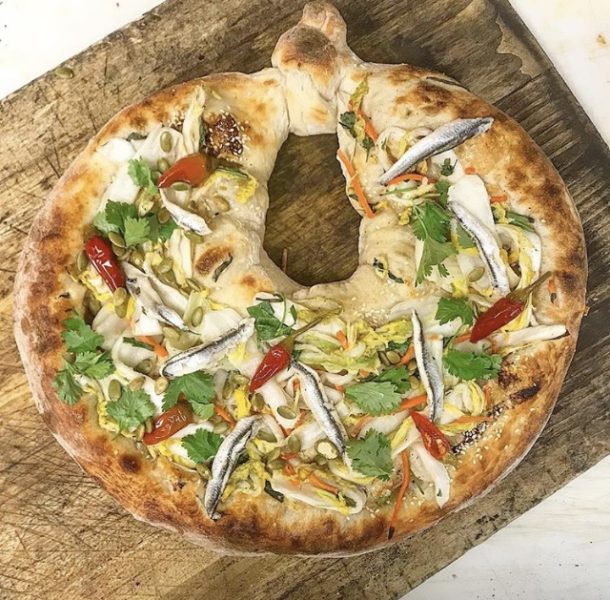 from your own site.
Source link