pizza
Winter Squash Salad with Waffled Halloumi Croutons and Pomegranate Vinaigrette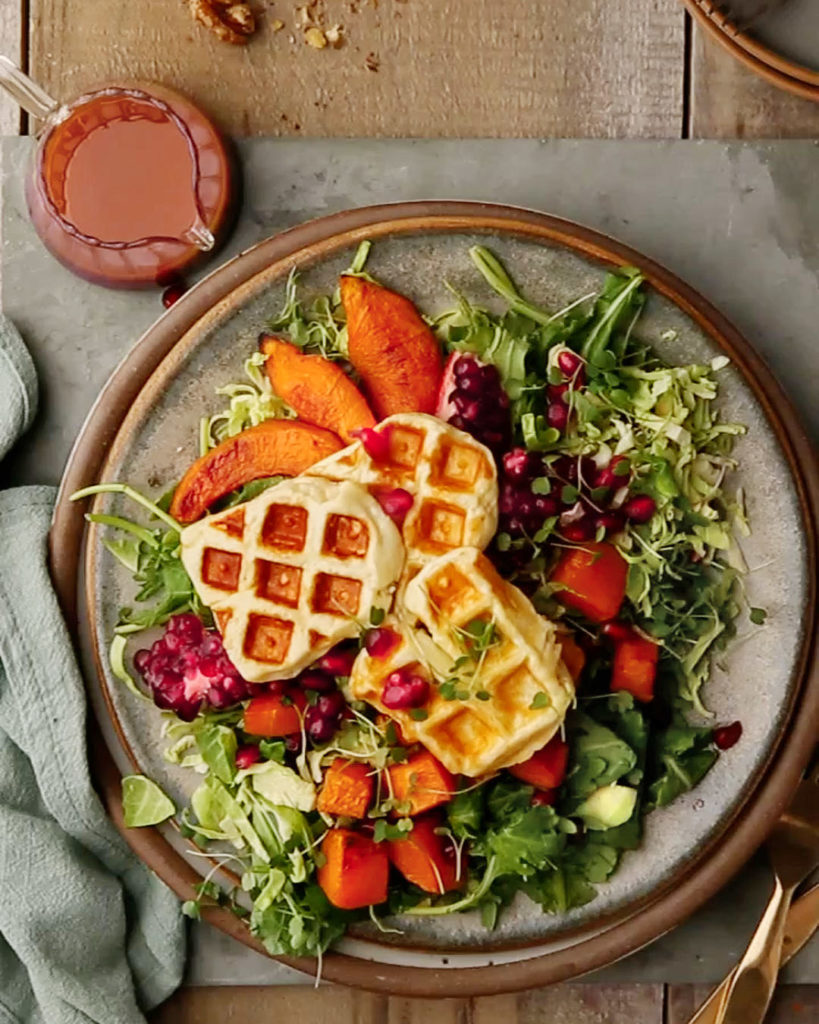 After my successful venture with Croffles (Croissant-Waffles), I started to look at other ingredients in my fridge with the same lens. Will it waffle, I wondered. It seems like such a shame to let my waffle iron sit in the cupboard gathering dust, only to pull it out twice a year to make waffles.
I had a package of halloumi cheese about to expire so I decided to experiment. I heated the waffle iron to medium and sprayed it lightly with cooking spray. I tried a range of thicknesses and settled on 1/2 inch slices. Because halloumi is so firm, it waffled beautifully. I achieved a burnished golden brown colour and crispy edges, with that tell-tale squeak in the centre. Resounding success.
I decided to build a winter salad around these "halloumi croutons". Check out this video to see how it all came together.
I started with butternut squash. Seasoned with salt, smoked paprika and a good drizzle of olive oil I roasted it until tender and browned. I like to cut the squash into small pieces to maximize the crispy surface area. Pro tip: Use a grapefruit spoon to scoop out the seeds and stringy fibres in the squash. The serrated edge of the spoon is the perfect tool for this.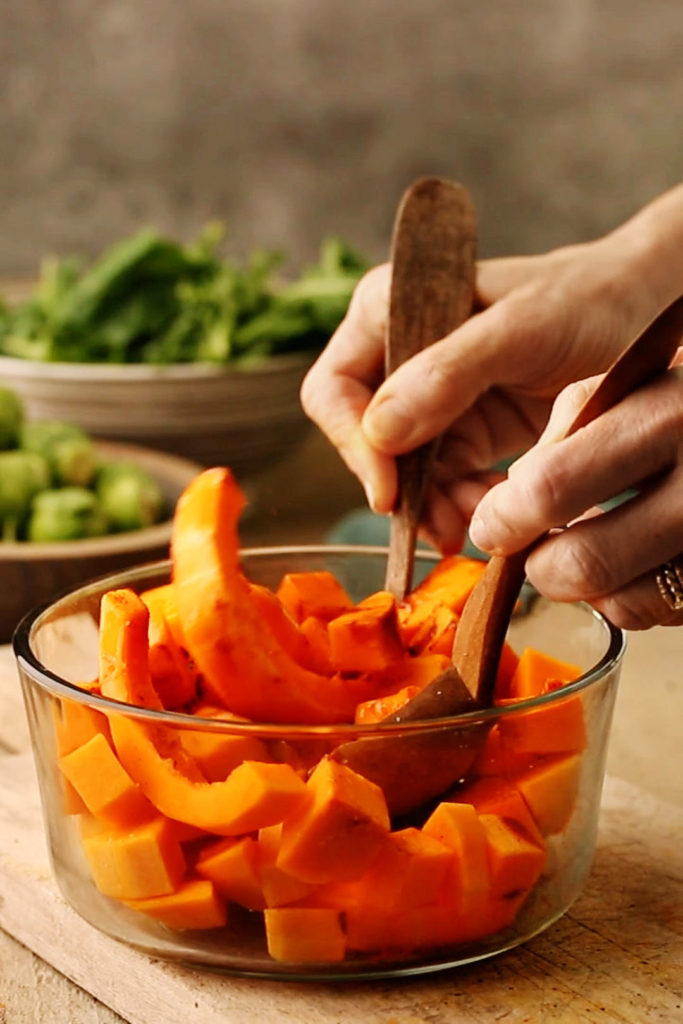 For greens I decided on a mix of baby kale, micro arugula, and shredded raw Brussels sprouts. Arugula, frisée lettuce, radicchio, and Tuscan kale would all be good choices. You need a fairly bitter, assertive lettuce/green to counterbalance the sweet squash and mild, salty cheese.
If you have a food processor with a slicing disc, it produces julienned Brussels sprouts in seconds. If not, with a sharp knife and some patience, and it can be done by hand.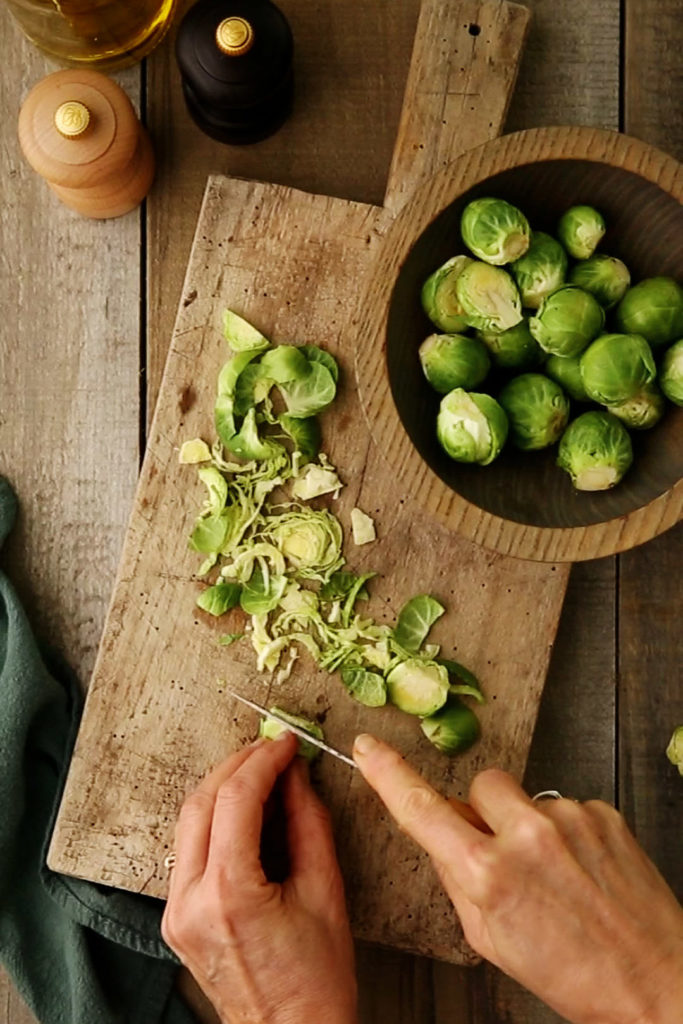 Every salad needs crunch. This one comes from spiced walnuts. If you have never made your own spiced nuts before, it's quite simple. A lightly beaten egg white acts as the glue to help the spices stick to the nuts. I used a mix of sugar, salt, sumac and a pinch of cayenne. They only take about 12 minutes to toast and they keep for weeks in an airtight container. You can play around with the nuts and spices.
For the dressing, I created a sweet and tangy pomegranate vinaigrette. Pomegranate seeds were the final garnish, twinkling like glittering jewels.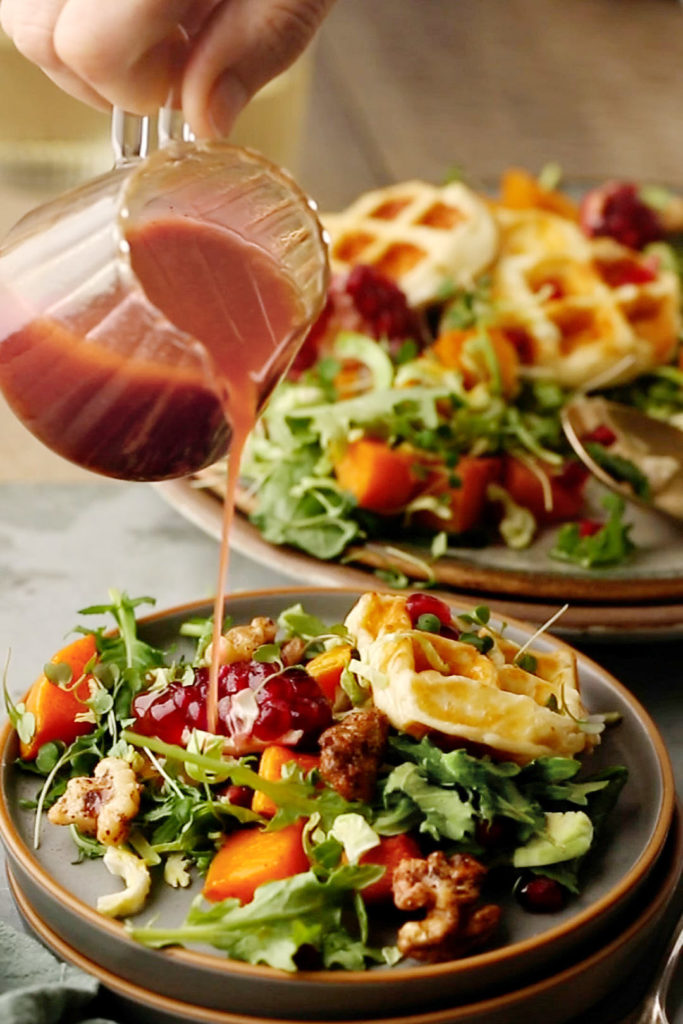 Click here to print recipe for Winter Squash Salad with Waffled Halloumi Croutons and Pomegranate Vinaigrette.
Source link